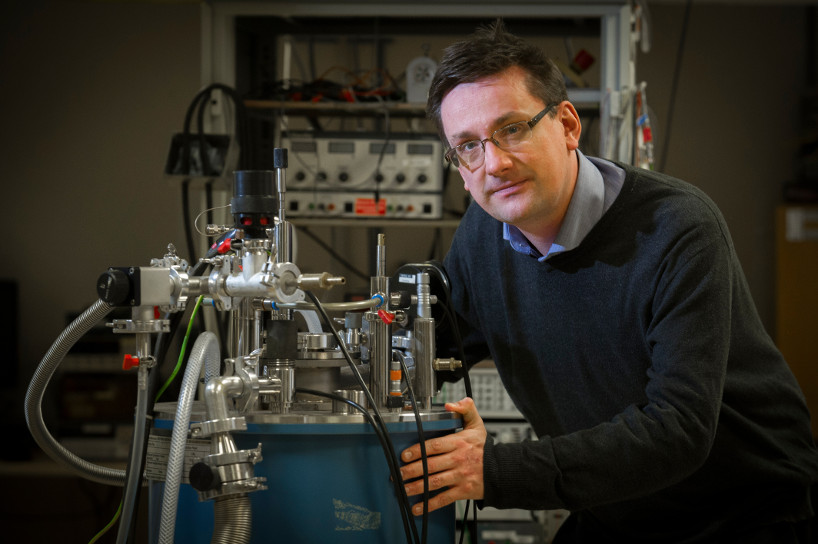 Photo: Keith Heppell
Professor of Superconductor Engineering
MSci Imperial College 1997
PhD University of Cambridge 2001
Email: john.durrell@eng.cam.ac.uk
John Durrell is Professor of Superconductor Engineering and a member of the Bulk Superconductivity Group, part of Division C (Mechanics, Materials and Design) . From October 2010 until September 2014 he was a Senior Research Associate in the group. He is a Fellow and Assistant Director of Studies for 1A Engineering at Pembroke College .
Previously John has held research positions at the University of Linz and the University of Cambridge. Most recently he held an EPSRC Advanced Research Fellowship in the Device Materials Group of the Materials Science Department. He was, until Summer 2013, Director of Studies in Natural Sciences (Physical), a Fellow and a Tutor at Hughes Hall.
John holds a PhD in Materials Science from the University of Cambridge and an MSci in Physics from Imperial College. He was educated at Yateley School and what is now Cheadle College.
Research
Publication List [Items in DSpace@Cambridge]

orcid.org/0000-0003-0712-3102
Dr Durrell's research interests centre around the structure and properties of the Flux Line Lattice in superconductors. Consequently his research interests and publications span from experimental condensed matter physics to the commercialisation of practical superconducting materials. Since joining the Engineering Department Dr Durrell's interests in technical materials have grown to include the applications of superconducting bulks. As an EPSRC research fellow Dr Durrell's primary area of research was directed towards understanding the effects of pinning enhancing additions and grain boundaries in practical "coated conductor" superconducting wires.
Awards and Prizes
National and International Offices
Teaching
Current
Previous